It's
~*Friday*~
, and you know what that means!! Actually, you probably don't because it's a
NEW FEATURE
I've just created called
"Weekly Wishes"
. Every Friday from this point on, I am going to post a collection of images from the internet that I've seen of things that I
MUST HAVE
. It will consist of however many things I want, whether obtainable through purchase or not (if not, I will just cry in a corner whispering
"In my dreams..."
)
Now, let's begin!!
1. THESE SHOES
. I saw this pair on Tumblr and I was absolutely dying. Not only are they shoes (which is usually enough for me), but they are also
PINK
, short chunky heeled, mary jane style (my absolute favourite), and *SPARKLY*! Pretty much all of my favourite qualities squashed into one pair of beautiful shoes. I don't know where I can get them, but I simply must have them!
2. Moons & Stars & Bows Bobby Pin
. How adorable are these custom made bobby pins by Darling Deers Kawaii? And of course, in the most darling pastel colours. Especially now, with my short hair, do I want to accessorise my hair more often with barrettes and pins, and these are certainly where I'd start! Best part--they're onlty$2.50!
3. The Great Gatsby OST
. Words cannot describe how excited I am for the new rendition of
The Great Gatsby
--one of my favourite books! Not only does it have Carey and Leo, but I could tell just from the trailers that the soundtrack was going to be
legendary
, and after hearing previews of some of the songs, I know now my prediction was right! Plus,
Lana Del Rey
(whose single "Young and Beautiful" from the film releases 23 April!!) is featured as one of the artists, as well as
Jack White
, and
Florence + The Machine
, some of my favourite talents.
4. VOGUE (May 2013). I am one of those girls who considers Vogue magazine to be her Bible, but seldom to I purchase it unless there is someone truly notable on the cover (for instance, the last one I purchased had Anne Hathaway, and the one before that Emma Stone). So, when I found out that Carey Mulligan would be covering May's issue I just about screamed in excitement. She looks beautiful all decked out in '20s inspired fashion, promoting The Great Gatsby. You can be sure I've already planned to keep that $4.99 in my wallet just for this issue--a necessity!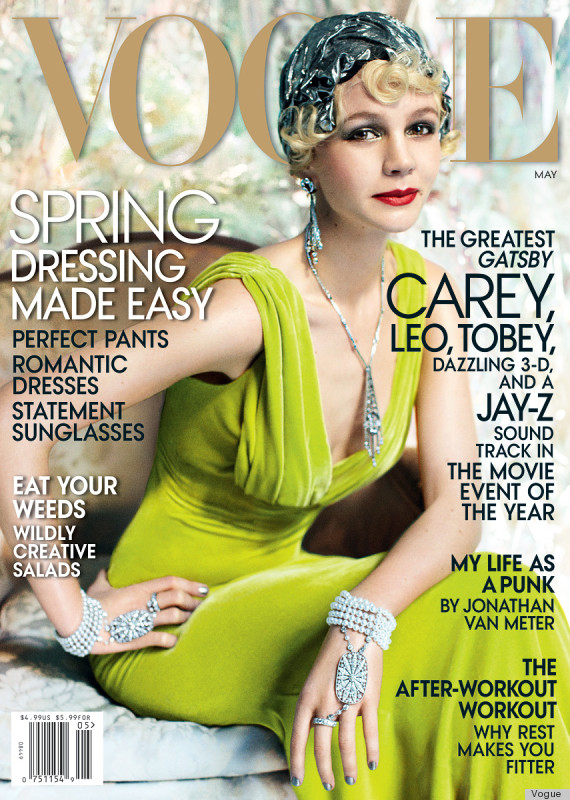 5. 'Treat Me Dress' on ModCloth
. What can I say about this dress? It's perfect! The embroidered lace detailing, the pale colour scheme, the collar, the keyhole button cinch in the back, it is just so dreamy! It reminds me a lot of the Louis Vuitton Spring 2012 collection, another find worth drooling over. I could wear this dress to a lovely tea party (with the shoes above of course!!). It's new
today
, so you can
buy it here
!
That concludes my first Weekly Wishes post! I certainly enjoyed sharing these finds with you, and really hope they'll be in my possession sometime in the future--but if not, it's still fun to dream!